We are excited to introduce you to ClickMeeting's upgraded account panel dashboard. With this change, you can schedule webinars and online meetings in no time – in a fast and intuitive way! How will it work now? Let's take a closer look!
To cut to the chase, from now on, choosing between organizing a webinar for a broader audience and an online meeting with a smaller team will be a matter of a one, single click. It's a simple choice between two buttons – Create webinar and Create meeting.

Creating a webinar – going live or on autopilot
With the latest platform update, you can now choose between the types of webinars, right from the start. By clicking the Create webinar button, you will see a drop-down list with three kinds of webinars to select from:
Live – a classic form of a webinar conducted in real-time;
On-demand – prerecorded event for your attendees to watch at any time;
Automated – prerecorded and scheduled to go on air automatically at a specific time.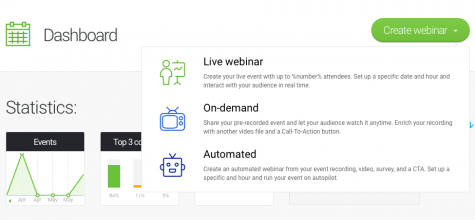 After   clicking   your   webinar   of   choice, you   will   be   redirected   to   a   page designed   for   scheduling   this   specific   type   of   event.
Creating a meeting – in advance or on the go
When it comes to organizing online meetings, we wanted to make things as easy as possible. In a flash, you can decide whether you plan your online get-together ahead of time or hop on it instantly. Simply, click the Create meeting button and choose from one of the two options:
Planned meeting – for all the meetings that you'd like to schedule ahead of time;
And Meet now – a brand new option for ad-hoc meetings that don't need notice.
By clicking the Meet Now button from the drop-down menu, you will see a pop-up window where you can add your contacts and then invite them and go to the meeting room instantly!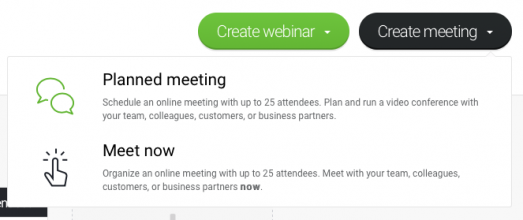 The Meet Now option is replacing the old Ad-hoc event button you might remember from the previous version of ClickMeeting's dashboard.
Your turn!
All in, with this ClickMeeting's account panel upgrade, you can make scheduling your webinars and online business meetings easy as pie!